Material Handling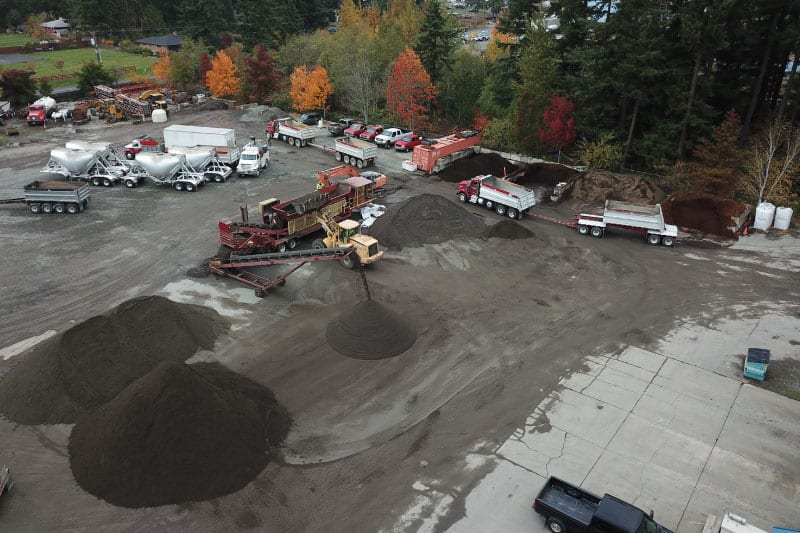 Walrath Products
are blended with care and consideration for every job!
Custom Soil and Sand Mixes Blends
Blends for Landscaping, lawn and gardens, lightweight rooftop and potting soils, bioretention medias, rain garden soils for stormwater filtering.
Walrath's unique and innovative digital blender precisely measures the ingredients in soil and sand mixes, gravel for driveways, pathways, ballfield material infield mix, topdressing, sand for golf courses, parks and playfields.
Walrath can set up screening plants, crushing plants, and grinding equipment on your work site.
Screening plants: Mobile screeners for screening and sizing material
Crushing: Portable Crushing Plant for crushed rock, concrete, and asphalt
Grinding: Full line of equipment to grind and process wood waste and construction debris
Production and Handling Locations : Lacey, Tacoma Main Office, Gig Harbor, Everett
Bagging Services: If bulk delivery is not an option Walrath offers products in 1 ton "super sacks", Walrath can provide specialty bagging equipment on your site with your material
Rail Offload: The Railyard in Tacoma can offload bulk material shipped by rail cars and transport to any location. Walrath Offload Equipment can all be to any rail spur.